The Frraser Valley Real Estate Board Recently released this artilce about the Housing market in the Fraser Valley which has seen its strongest June in four years:
The Fraser Valley Real Estate Board's Multiple Listing Service® (MLS®) processed 1,668 sales in June,
an increase of 26 per cent compared to the 1,327 sales in June of last year and 2 per cent higher than sales in May.
In terms of historical comparison, last month's sales finished 7 per cent below the 10‐year average for June with
the previous best June occurring in 2010.
Ray Werger, President of the Board, says, "Recent news reports indicate that consumer optimism about real estate
is at its highest level in a number of years and we're experiencing that at the ground level.
"Over the last three months, we've seen a surge in demand specifically for single family homes and townhomes in
most of our communities. Our number one buyer is families with children and they're taking advantage of ultra‐
low interest rates combined with more affordable, stable prices in the Fraser Valley."
In June, the benchmark price, as determined by the MLS® Home Price Index (MLS® HPI), of a 'typical' residential
home – detached, townhouse and apartment combined – was 1.3 per cent higher than June of last year. For the
single family detached home, the HPI benchmark price in June was $568,600, an increase of 3 per cent compared
to June 2013 when it was $552,200. This is a record high benchmark price for detached homes since the MLS® HPI
began in January 2005.
The HPI benchmark price of Fraser Valley townhouses decreased by 0.3 per cent; going from $298,700 in June
2013 to $297,800 in June 2014. The benchmark price of apartments was $197,000 last month, a decrease of 2.7
per cent compared to $202,500 in June of last year.
Werger adds, "We're essentially seeing two markets right now, so it's important to get advice dependent on what
you're listing or buying. Competitively priced, mid‐range single family homes are being snapped up quickly, on
average in a little over a month, whereas condos and higher‐end, executive homes in our region are taking as long
as three months on average to sell. Talk to your REALTOR® to find out where you fit."
The Board's MLS® received 13 per cent more new listings in June, 2,974 compared to the 2,625 new listings
received during June of last year. The month finished with 9,853 active listings, a decrease of 6 per cent compare
to the 10,515 active listings available during June of last year.
Here are the charts That show the activity in specific areas:
-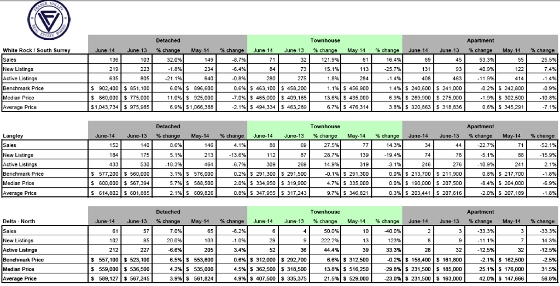 Source: Fraser Valley Real Estate Board.
As always if you have any questions about this article, the real estate market in generall or any other real estate realted questions please feel free to contact us we would be happy to talk with you.
-Mitten Real Estate Team.