Introduction:
Welcome to our mitten real estate team blog, whether you are a first time reader or a regular reader we would like to thank you for taking the time to visit our blog today. If you have ever wondered you're your home is worth you will enjoy this article. This week are going to be talking about how our home evaluations work and how they can work for you. We are writing this article because recently some of our clients were surprised to learn that we are happy to offer free no obligation home evaluations so we just wanted to be sure that all of our clients and prospective clients know this is a service we are happy to offer to you.
In addition to providing you with a free home evaluation when you are thinking of selling we are also happy to offer you a free home evaluation even if you are not thinking of selling right now but want to know what the market value of your home is.
Times you may want a home evaluation:
There are many situations where you may want a home evaluation and in many cases you may not even be thinking of selling your home, some examples are:
1.) If you were considering renovating your home but didn't know if the renovation made financial sense or what type of renovation gives the best return in your situation.
2.) If you were thinking about buying a fixer-upper home to flip but wanted to know if you would be likely to see a good return on your investment.
3.) if you need a professional opinion of value because you are thinking of refinancing,
4.) You just want to know what your home is worth, etc…
5.) If you are thinking of selling your home.
In all of these situations we are happy to assist you even if you won't be selling or buying right now…
The reason we are willing to provide this service is we know that to provide you with the best service we need to go the extra mile and help you with all aspects of your real estate decisions even when those don't include selling or buying immediately. We also know that by providing this service you will want to have us represent you when the time to buy or sell does come, and in addition we really do care about our clients and want to be sure you make informed real estate decisions.
How our Home Evaluations Work:
So you may be asking how does your home evaluation's work? And, what makes them different from every other agent's evaluations?
We take the responsibility of estimating the market value of your home very seriously this is why WE DO NOT just visit you home and immediately give you a dollar value based on gut feelings…
Instead we have a proven and detailed process(s) for valuing your home, investment or commercial property.
For residential properties what we like to do is start out by viewing your home, on this first trip we will view your home and you can tell us anything special about your home that we should know. We don't usually give any opinions of value of this first visit…
Now that we are familiar with your home and have seen where it is located in person we will go and do some research, we will find similar homes that have recently sold in your area as well as similar homes that are for sale in your area… But our research does not stop there….
Next we take those comparable sales and input a number of characteristic about those homes as well as characteristics about your home into a mathematical spreadsheet, which we have refined through years of experience), in addition to this quantitative component to our spreadsheet we also have a qualitative component to our spreadsheet. In the qualitative portion of the spreadsheet we can look at and adjust for an unlimited number of factors relating to how your home compares to other similar homes that have sold. For example how much your kitchen is worth compared to each of the kitchens in the comparable sales. These adjustments are made based on our professional experience and professional opinions. In total Most compehesve home evaluations are between 100 - 200 pages long!
Using this detailed method that combines quantitative and qualitative analysis we are then able to determine an estimate market value for your home which we feel is backed up by a thorough analysis and professional experience.
Once our analysis is complete we will then call you and arrange to meet with you to discuss what your home's estimated value is, and if you are thinking of selling what your home will be priced at…
While no home evaluation can ever tell you with 100% certainty exactly what a future buyer will be willing to pay for you home, in our experience we have found our home market evaluations to be quite accurate in most situations.
The reason we go to these lengths to determine the value is that we know decisions relating to real estate involve a lot of money so we want to be sure you are well informed so that you can make good decisions.
As a side note we also have a very detailed method for determining the value of commercial properties as well, however we won't get into the details of that process in this article.
Our Compehensive Home Evalution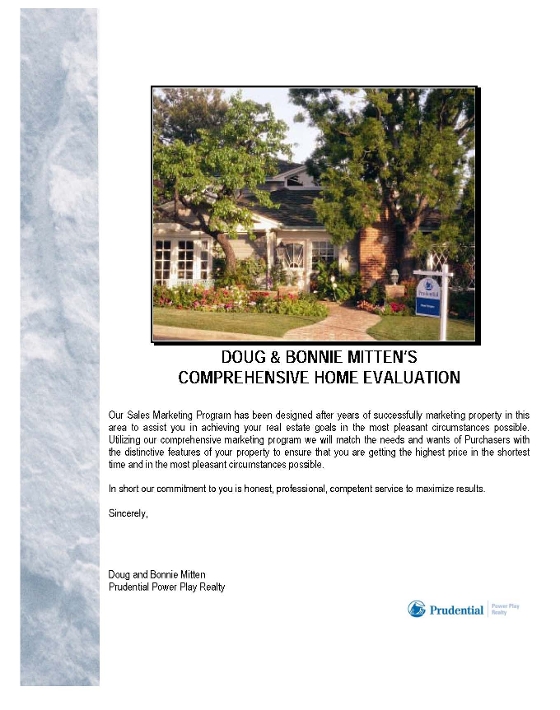 Conclusion:
To conclude we hope you have enjoyed the brief description of how our home evaluations work and why we feel they have industry leading accuracy. If you would like to have us preform a free no obligation market evaluation for your home regardless of if you are thinking of selling please let us know we would be happy to provide this service for you.
We can be contact through this website, or you can call us directly at 604-882-8384 we wuld be happy to assist you.
Sincerely,
Doug, Bonnie and David Mitten
(Mitten Real Estate Team)